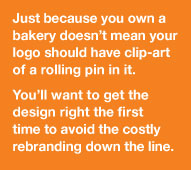 The logo, that little doohickey that means so much. Your logo is an incredibly important part of your company's brand image and marketing strategy.
People make conscious and unconscious judgments about your company in a split second based on your logo. A good logo will represent you well now, and in years to come, by conveying your brand's personality and professionalism to prospects before they even read a word of your brochure or speak to a salesperson.
Just think of everywhere your logo may appear – stationery, business cards, websites, company vehicles, uniforms, signage, brochures, packaging and more! You will be investing a lot of money in these items over time. You'll want to get your logo right the first time to avoid spending valuable dollars re-branding down the line.
XBM creates quality logo designs and lasting brand identities.
Let us use our experience and award-winning design skills to work creating your new logo. After discussing the project in depth with you (Phase 1) we will produce a creative brief to guide the design process so you'll know exactly what to expect.
In Phase 2 you'll receive three black and white logo concepts for your review and input (why viewing a logo in black and white is so important). Then we'll refine your choice until you're completely satisfied with the design. In the final phase we'll show you the new logo in three different color palettes that are appropriate for your brand image (view a chart on colors and their various meanings).
Once a final decision has been made on the color palette you will receive your new logo in eps, jpeg and gif format via email ready to use.
What's involved in the design of a good logo?
The design of a truly good logo is part art and part science. Your logo should convey your company's brand and attitude. Is your company cutting-edge, trustworthy, fun, fast, high-end or bargain-based. A good logo will capture the personality of your brand and the eye of your potential customers.
Your choice of corporate colors is just as important as the logo choice itself. You will most likely want to use these colors in all of your marketing materials and signage. Making careful, informed decisions about color now will payoff in the future.
To see the quality and variety of logos we have produced in the past just view our portfolio.
Ready to start your new logo design project? Contact us today to set up a FREE 15 Minute Consultation.