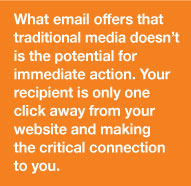 Email marketing is a great way to communicate with both current and potential customers. A well-crafted campaign is cost-effective, quick to execute, builds relationships and provides timely and detailed feedback you can use to boost sales.
You can use email to do just about any kind of advertising you would normally do; advertise a new product, a sale, service, charitable fundraising, etc. What email offers that traditional media doesn't is the potential for immediate interactively. Your recipient is already right there at the computer. They're just one click away from your site and making the critical connection to you. Toll-free numbers, pre-paid reply cards, and print ads just don't compare to the immediacy of a link in an email. Nothing is easier than just clicking right now!
Email campaigns offer our clients fast impact and measurable results. It's a solution that makes sense for any client budget or economic outlook.
Custom Email Templates & Newsletters
From member newsletters to money-saving promotions—whatever message you need to communicate, we'll design a custom template for it. Each template offers complete flexibility—with just a click, add your product photos, offers, articles, links, promotions, coupons, and more. Not sure what to say? Read our article on Email Marketing for tips and suggestions. Or have XBM create powerful, effective content for your business—making Email Marketing even easier for you!
Email List Management
What's the best list for your business or organization? A permission-based one. That means everyone on it said it's okay for you to contact them. It's better than a mailing list you buy or rent, because you already know the people on your list want to hear from you and are interested in you. It doesn't cost you anything to build one. We'll help you start one—and keep it growing too.
Track your results
See who's reading your emails and clicking on your links in real time, and track the performance of all of your Email Marketing communications over time. Just log in to your account to see who read, who clicked, and who forwarded your email to their friends, and more. We'll tell you with easy-to-understand reports.
Compare results from all your email campaigns
See email campaign statistics — open rate, bounce rate and click-through rate
See how many people forwarded your emails to friends
Track your monthly list growth by source — like through website traffic, forwarded emails, in-store signups
Learn who unsubscribed from your email list, and why
Manage bounced email addresses
See which email addresses in each campaign bounced
Learn why they bounced, then contact your customers to find out why or update your database
Remove or edit them as needed for your next campaign
Ready to start your new email marketing campaign? Contact us today to set up a FREE 15 Minute Consultation.