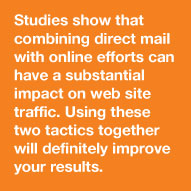 What is one of the first things you do when you get home at the end of the day? I bet you get the mail! It's part of almost everyone's daily routine. Mail is still one of the easiest ways to reach decision makers. It's tangible, portable, easily saved and can be read at the prospect's convenience.
XBM creates effective, memorable direct mail campaigns that speak to your target audience and drive sales.
Let us use our experience and award-winning design skills to create a new direct mail campaign for your company. After discussing the project in depth with you we will produce a creative brief to guide the design and copy writing process so you'll know exactly what to expect.
What's involved in the design of a good direct mailer?
A good direct mail piece gets response! Attention-grabbing visuals, enticing and intriguing headlines, and benefit-driven copy drive prospects to act. The design of a direct mailer is part art and part science. It must get your message to your audience in a memorable way while being cost-effective and adhering to all appropriate postal rules regulations, no easy task.
How much does a professionally-designed, effective direct mail campaign cost?
Every project is different. For instance, larger companies usually have a more involved approval process than smaller ones. Some companies will already have high-quality product photography available, others will not. When we discuss your project in detail we will estimate the amount of time involved and the various components needed to complete the project. Then we will provide a written quote with the exact price of your project along with a proposed schedule and list of deliverables.
Most direct mail projects can be completed in 3-4 weeks and quickly pay for themselves with higher sales rates.
To see the quality and variety of direct mailers and catalogs we have produced in the past just view our portfolio.
Combine Direct Mail with Online Marketing.
Studies have shown that combining direct mail with online efforts can have a substantial positive effect on campaign ROI. This can be accomplished with a custom landing page for each campaign as well as through Purls (personalized URLs for each addressee) that actually put your target's name in the web address you print on the mailer!
Ready to start your direct mail design project? Contact us today to set up a FREE 15 Minute Consultation.