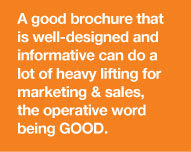 There is hardly a company out there that couldn't make excellent use of a well designed, informative product or services brochure. It's often the cornerstone of a company's marketing effort and can be used as a leave-behind piece for sale calls, a direct mailer or as a handout at events and trade shows.
A really good brochure can do a lot of heavy lifting for marketing and sales, the operative word being GOOD.
XBM creates informative, effective brochure designs that speak to your target audience.
Let us use our experience and award-winning design skills to create a new brochure for your company. After discussing the project in depth with you (Phase 1) we will produce a creative brief to guide the design and copy writing process so you'll know exactly what to expect from your new brochure.
In Phase 2 you'll receive three brochure concepts for your review and input. Then we'll refine your choice until you're completely satisfied with the design and copy. In the final phase you'll approve your new brochure and send it off to the printer. You'll also receive a FREE PDF version of your brochure that you can begin using on your web site right away.
What's involved in the design of a good brochure?
A marketing piece as important as this will be viewed carefully by prospects. It can make or break a sale. Therefore your brochure must reflect the quality and professionalism of your company.
A high-quality brochure will use a combination of design, visuals, text and layout to create a unique look and feel that emphasizes your marketing objectives – whether that's introducing a new product, service, creating brand awareness or soliciting donations. The objectives can vary as widely as the designs, what matters is that your brochure is designed to communicate effectively to your target audience. It should give your prospects the information they need to get excited about your product and persuade them to take the next step in your sales process with a prominent Call-To-Action.
To see the quality and variety of brochures we have produced in the past just view our portfolio.
Ready to start your new brochure design project? Contact us today to set up a FREE 15 Minute Consultation.