When is a Press Release not just a Press Release?
Answer: When it's posted on the internet.
The internet seems to have changed every aspect of marketing and communications. Even the stale, old press release has been transformed by it. It's become a marketing powerhouse and you should be taking advantage of it.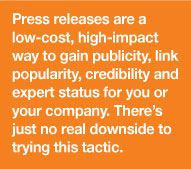 Press releases used to be written to appeal to the editors of the publications you were praying would run the release. You often had to include third party reviews or independent studies of your product or service in order to get published. The internet has completely changed that scenario.
Now marketing departments and business owners can release their information directly to the public on their own web sites. They can also submit them to services that will spread them far and wide over the internet. Even editors and journalists now look to the web first for new stories that they will publish in print or on content-driven web sites. Your press release can now focus on pleasing the end reader, not just the editors.
There are several good reasons for using press releases as a part of your marketing strategy:
• If someone is taking the time to research your industry they could be a potential customer, you don't want them to miss you.
• Posting your press releases on your site gives you instant credibility with visitors.
• To provide content for journalists searching for new information about your company or industry. They may choose to write about it, either for a web site or print publication. Either way, it's free advertising for you!
• Posting your press releases to your web site gives you a source of new content, and this is very important to search engine page ranking. Your release should be in a searchable format and keyword-rich. Many companies find that their "News" page is one of the most visited pages on their site. Make sure it has quality content.
• If you're using an online press release service (and you should) make sure to include live links in your text directing people right to your site or offer. That way, when people come across your release in a search, they can go directly to your site for more information.
• Putting these live links directly in the text of your press releases serves another important purpose – raising your link popularity. Your site's page rank in search engines like Google (how deep your site is when someone searches for your category/product) is largely dependent on incoming links to your site. This is called Link Popularity.
All these press releases floating around in cyberspace will be incoming links. People reading your release may put a link to your site on their site as a resource for their readers, giving you more incoming links. This particular aspect of Search Engine Marketing is cheap and very effective in raising your page rank.
So, when should you issue a press release?
Anytime something of note happens at your company. When you introduce a new product or service, win an award, hire a key new employee, publish a white paper, conclude a study or survey, launch a new web site, sponsor a workshop or land a big new client (with their permission). Issue a press release anytime you have something to say that your target audience may find interesting. Be sure to archive your older press releases on your site in a searchable format for as long as the content seems relevant.
Use a journalistic style when writing your release; avoid seeming too promotional. Use keywords and phrases in the title, headlines, subheads and text that people are likely to use as search terms on Google or Yahoo. Stay away from corporate jargon and acronyms, they may be popular around the office but if they aren't widely known by your audience they won't help your effort.
You can post your releases directly to your site's News section, but you should also consider using some press release services to get the word out. These are some of the most popular services:
PRWeb www.prweb.com
MarketWire www.marketwire.com
BusinessWire www.businesswire.com
PRNewswire www.prnewswire.com
Compare the various services and decide which one will be best for reaching your target audience. Most of these services also offer RSS feeds for your releases. This will make your information available to content-driven sites, blogs and individuals who have interest in your offerings. How can you beat that?
Keeping an eye on the publicity you're getting is always a good idea. Try using a Buzz Monitoring Service – Services that will email a client regarding their status in an industry. Most of these publicity monitoring services will email anytime a company's name, executives, products, services or other keyword-based information on them are mentioned on the web.
Google Alerts (google.com/alerts)
Yahoo! Alerts (alerts.yahoo.com)
CyberAlert (cyberalert.com)
Carma (carmainternational.com)
Some services charge a fee; others, such as Yahoo! and Google Alerts, are free.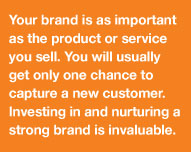 Now that you're taking advantage of the internet, don't forget the traditional approach. Submit your press release, a one-page company profile and owner/CEO biography to traditional print outlets such as newspapers, relevant magazines and trade journals. Tell them why your press release will be interesting and relevant to their audience. They may publish your release or, if you're lucky, write an article about your company.
There's just no downside to trying this tactic. Press releases are a low-cost, high-impact way to gain publicity, link popularity, credibility and expert status. You should consider making them a regular part of your Multi-Marketing Strategy.